We watch A LOT of Good Eats at THS HQ. Alton Brown has inspired us with our daily eats of course, but also with our adult beverages! Have you seen the episode on Bloody Marys where Alton makes Tomato Vodka? Nick and I have seen it several times and each viewing we note how simple the process is and mention that "we really need to try that soon!"
Thanks to a couple of generous gardeners in my life, I found myself with a pile of cucumbers on my kitchen table one weekend last month. Determined to hold on to those summer feelings as long as possible, we decided it was time to try our hands at vodka infusion!
I can't stress this enough: Infusing vodka is super simple.
I took slices of my garden cucumbers and placed them in a large ball jar.
I added a few slices of lemon and poured triple distilled vodka to the top before sealing the jar tightly.
We stored the jar in a cool, dark spot and gave it a shake every few days.
About 3 days in I removed the lemons.
About 3 days later, I removed the cucumbers by straining through a mesh strainer.
Now the question is – how to use it?!
I did some internet hunting and found ten recipes I want to try using my Cucumber Lemon Vodka creation.
This Cucumber Vodka Soda recipe from How Sweet Eats uses actual Cucumber Juice [Jess includes how-to for those of us without a juicer in the kitchen – SCORE!] and regular vodka. I'm thinking upping the game with the Cucumber Lemon Vodka is simply the right thing to do.
Foodie Crush's Cucumber Delight Cocktail is all about refreshment; even the melon ball and cucumber slice garnish look mega-refreshing. Mule-like with the inclusion of ginger beer with a bit of sweet and sour partnership found in lemon juice and simple syrup. Ahhhhhhhhhh!
Dear, A Bubbly Life – Thank you for teaching me the simplicity of How to Make a Cucumber Salty Dog Cocktail. After my summer of 2013 quest to "make grapefruit vodka and soda my drink" this is an obvious choice. Can you believe I've never known what a Salty Dog was before I started looking for recipes to make with my vodka creation?
It's important to remember that the most refreshing cocktails are often the most simple. Pixels and Crumbs delivers the perfect easier-than-pie glass with this Cucumber Vodka Cocktail. I think this is the perfect beverage for chasing a happier hour after a hard day at the office.
I've decided that taking the time for homemade lemonade and stirring up some Cucumber Lemonade for Grown-Ups from Set the Table is a great way to savor summer into the start of fall. I have a sweet vintage lemonade set I was gifted years ago and I love using the pitcher for fancy cocktails on a whim.
It wasn't long ago that I declared limes my favorite fruit, making this Cucumber Lime Zinger from Kitchen Konfidence a no brainer for Cucumber Lemon Vodka consumption. I think this cocktail would pair really well with shrimp tacos or beef fajitas!
The Firecracker from Creative Culinary is a watermelon, lime and cucumber cocktail fit for celebration. This screams "serve me with finger sandwiches!" and "sip on the porch!" Who wants to come over?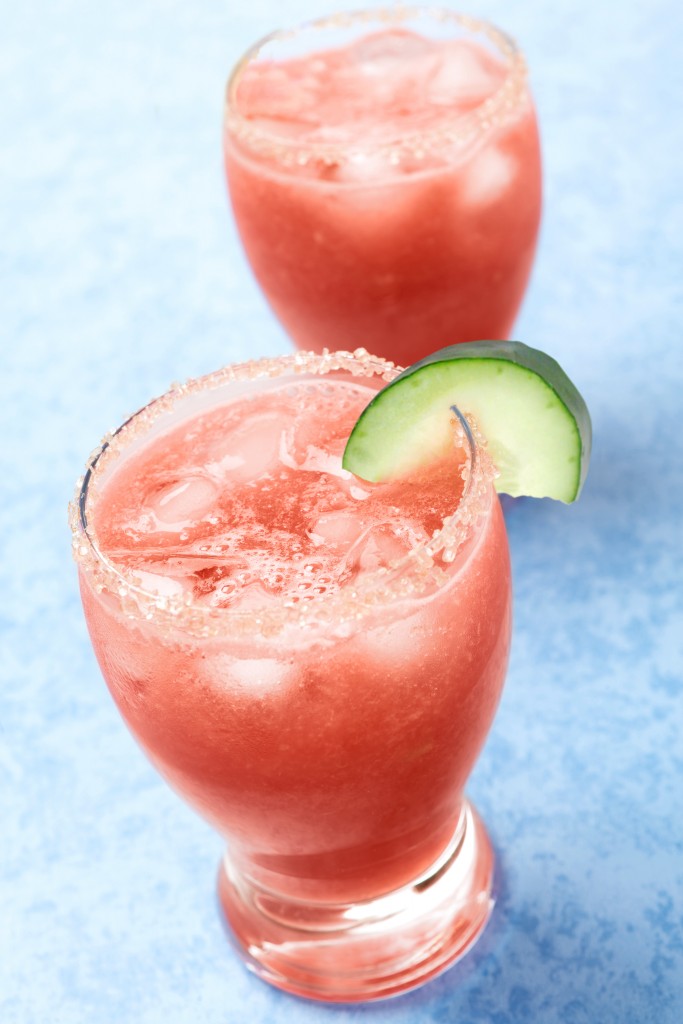 A cocktail named Garden in a Glass is clearly a check in the "healthy decision" box, right? My Life and Kids blends watermelon, lime, agave and vodka for a freggie-filled glass of adult deliciousness.
My sister, Melissa, first taught me of the wonders of Moscow Mules while visiting my parents at a few years back. Mules have been one of my go-to travel cocktails ever since; I love the blend of sweet and spice, along with the copper mug novelty. Cucumber Moscow Mule from The Culinary Compass seems like a great way to enjoy the infusion.
Fresh flavored and gorgeous to look at, this Cucumber Pineapple Mini Martini from I'm Bored, Let's Go is totally on the list for the next at-home cocktail night! That speckle! That flavor combo! I'm IN!
Do you have other suggestions for how to use my Cucumber Lime Vodka infusion?